ATARASSIA | The first solo exhibition of Lilla Tabasso in the gallery
Apr 10 2021 - May 15 2021
Opening of the exhibition: Saturday, April 10, 2021
10 am | 7 pm
In the gallery space
Taking inspiration from the didactic poem De Rerum Natura (On the nature of things, 1st century BC) by Titus Lucretius Caro, Lilla Tabasso presents her new works created between 2019 and 2021.
10 April | 15 May, 2021
Tuesday | Saturday
10 am | 7 pm
Lilla Tabasso (Milano, 1973), biologist and designer, was born in Milan where she still lives and works.
Following her studies at the Faculty of Biology at the University in Milan, she began working with Murano glass using the ancient techniques of glass-blowing and lampworking. Lampworking, in particular, is a working technique that uses colored glass rods produced in Murano furnaces, melted with a high flame and amalgamated to obtain the chosen color, then hot modeled with pliers, shears and small blow pipes.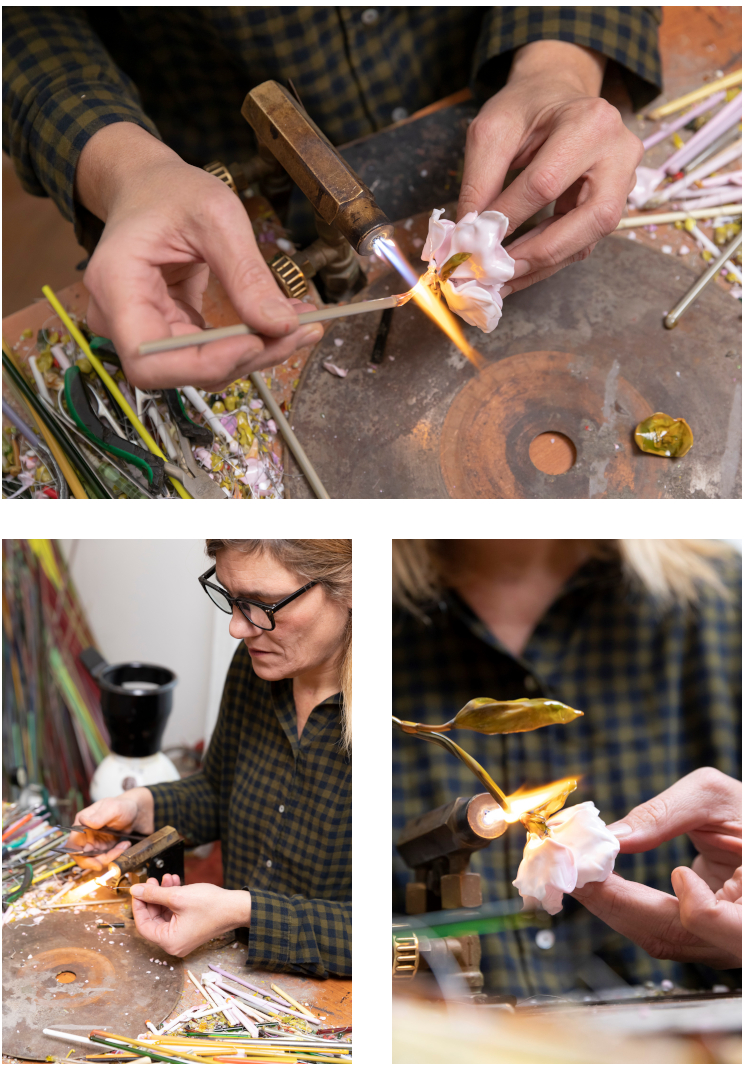 Her artistic experimentation focuses on her interest in, and feeling for nature, aided by her knowledge of botany, and combined with the complex practice of hand-made glass.
Her works are mainly flowers of incredible realism that draw from nature an infinite palette of colors, limpid shades and also – fundamental for the artist – mutations and imperfections: dry branches, faded flowers and wilting leaves. These are referred to in the concept of "Vanitas", a symbol used in Art History for the transience of earthly life, and the inexorable passage of time.
When considering Lilla Tabasso's work, it is impossible not to mention the work of the Blaschkas, father and son, who were glass masters from Bohemia. In the 19th Century, following a major commission from the main museums of natural sciences in America, they focused on recreating, for scientific purposes, an incredible number of species of flora and fauna. The most famous example is the Blaschka Collection in Harvard, created by Leopold and Rudolf from 1887 to 1936, and commissioned by Prof. George Lincoln Goodale, founder of the Botanical Museum. The collection contains more than 4,000 models and 847 species, all replicated to life-size.