Specchi Veneziani at Design Miami/Basel 2022
Jun 13 2022 - Jun 19 2022
Halle 1 Süd, Messe Basel, Swiss
Caterina Tognon is happy to announce the participation in the 2022 edition of Design Miami/Basel,
presenting a unique series of mirror prototypes, designed by Wendy Wheatley and Marco Zanini and produced in 1990 by S.A.L.I.R. in Murano, Venezia.
The historical company S.A.L.I.R. – Studio Ars et Labor Industrie Riunite was founded in 1922 by Decio Toso and Giuseppe D'Alpaos in Murano, with the dual aim of recovering particular aspects of the Muranese tradition linked to the production and decoration of mirrors, and seeking new artistic and technological solutions. It worked with personalities such as Franz Pelzel, Guido Balsamo Stella, Vittorio Zecchin, Tono Zancanaro, Vinicio Vinello, Giò Ponti, Giorgio De Chirico.
Sons of the founders, Mario D'Alpaos and Luigi (Gigi) Toso have been owners since the 70s, promoting a fruitful relationship with numerous artists and designers including Riccardo Licata, Agostino Venturini, Ettore Sottsass, Fulvio Bianconi, Vincenzo Eulisse, Marco Zanini, Wendy Wheatley, Renato Guttuso, exhibiting at many national and international exhibitions and obtaining various prizes and awards.
S.A.L.I.R. closed its doors in 2020.
The series Specchi Veneziani was designed in 1990 by Wendy Wheatley (b. 1962 in Hartford, Connecticut, USA. Lived and works in Milan) and Marco Zanini (b. 1954 in Trento, Italy. Lives and works in Rio de Janeiro, Brazil) under request of S.A.L.I.R., at a time when the two designers were working respectively as assistant and partner of Studio Sottsass Associati, and part of the Memphis design collective.
They designed 10 mirrors each, with a very different artistic inspiration.
In 1990, just after the prototyping of 10 mirrors designed by Marco Zanini and 10 designed by Wendy Wheatley, the collection was photographed by Santi Caleca for a dedicated catalog, and exhibited by Mario Godani at the Design Gallery in Via Manzoni in Milano.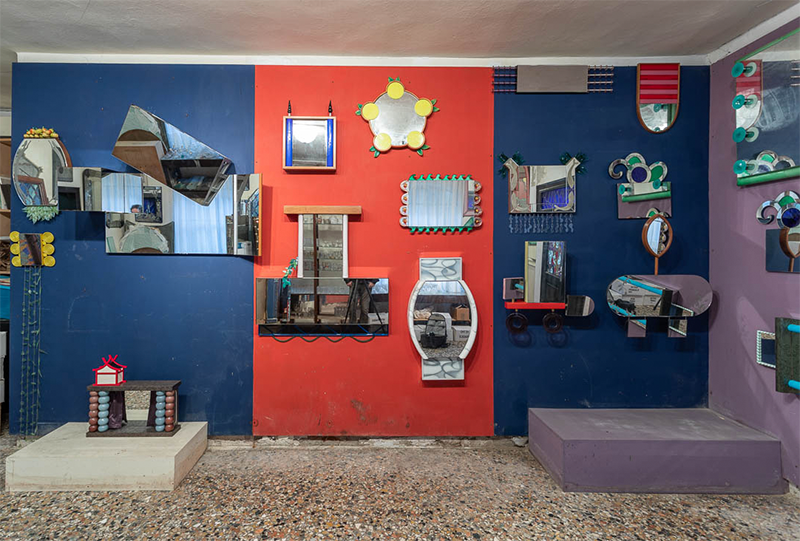 Memphis Milano is an unstructured movement born in 1980 and destined to revolutionize the history of design, despite its short life (it will remain active until 1987).
Its protagonists include, in addition to mentor Ettore Sottsass and his wife Barbara Radice, the designers Aldo Cibic, Matteo Thun, Marco Zanini, Martine Bedin, Michele De Lucchi, Nathalie Du Pasquier, George Sowden, Ernesto Gismondi (president of Artemide, recently passed away), to which many others are added, such as Alessandro Mendini, Andrea Branzi, Michael Graves, Hans Hollein, Arata Isozaki, Shiro Kuramata and Javier Mariscal.
The first collection was presented in 1981 at the Salone del Mobile in Milano, in the Arc '74 showroom of Brunella and Mario Godani, and gained immediate International acclaim.
From the beginning, the programmatic goal of the movement has been to break the rules of so-called 'good taste', playing with elements of kitsch, pop culture, advertising, non-Western cultures –- to name just a few of its very heterogeneous influences. Nonetheless, Memphis' works were anything but casual or simply anarchic: meticulously composed, they resulted in a new type of elegance, cutting and postmodern, even provocative, which mirrored the world of media and globalization and was characterized by an explosion of colors, patterns and fantastic shapes.
Memphis reflected the spirit of the 80s, the fast-paced and sometimes contradictory world of its time: a world of advertising and consumerism in which the boundary between 'high' and 'popular' culture no longer existed. Leaving behind the politicized trends of the 60s and 70s, it celebrated a more hedonistic lifestyle and the desire to overcome the dogma of Modernism, reviving the notion of ornament, albeit without rejecting functionalism recognizing rather that the message of an object is also a part of its function. This idea in particular had a huge influence on later design, as it freed designers from the simple design function, turning it into actual storytelling.
It was also the first design movement to reflect the revolutionary influence of electronic media on design itself.