"Toots Zynsky. Colour, the Common Thread" article by Sarah Nichols
Nov 16 2023
Toots Zynsky. Colour, the Common Thread
Caterina Tognon would like to inform friends and collectors
about the interesting article by Sarah Nichols entitled
Toots Zynsky. Colour, the Common Thread
for The Decorative Arts Society - The Journal, issue no. 47, 2023 -.
A leading specialist in the applied arts and a longtime curator at the Carnegie Museum of Art, Nichols takes an extremely insightful look at the work of Zynsky, among the greatest artists of the studio glass movement, whose work is known for the distinctive and pioneering technique of 'filet de verre,' the result of which is an energetic and colorful explosion of color.
In Toots Zynsky. Colour, the Common Thread Nichols describes Zynsky's long artistic career through its highlights and decisive contacts with the Venetian glass tradition, the influence of the time she spent in Ghana and her particular conception of color molded into material.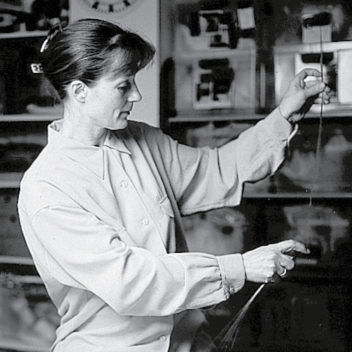 Zynsky (Boston, MA, USA, 1951) received her BFA from the Rhode Island School of Design in 1973. She studied with Dale Chihuly and in conjunction with him she participated in the founding and early development of Pilchuck Glass School in Washington State. She later became assistant director and head of the hot shop at the New York Experimental Glass Workshop in New York City, now Brooklyn-based UrbanGlass. She has lived 16 years in Europe and worked for Venini company in Murano, Venice.
She runs her studio in Providence, Rhode Island, USA.
Zynsky's work is included in more than 75 international museum collections, including the MoMA, the MET and the Cooper-Hewitt in New York City; the Musée des Arts Décoratifs du Louvre in Paris, the Stedelijk Museum in Amsterdam, the V&A Museum in London and Australia's National Gallery of Victoria.