Gizela Šabóková
Gizela Šabóková (b. 1952, Nové Zámky, Czech Republic) works mainly with glass, metal and cast iron. Her glass pieces are mainly realized with the pâte de verre technique.
From 1969 to 1973 she studied at the famous glass professional school of Železný Brod in Northern Bohemia; from 1973 to 1979 she continued her studies by attending, as was allowed under the regime only to the best students, the Academy of Fine Arts in Prague (VŠUP) and in particular the studio of Professor Stanislav Libensky. Since 1979 Šabóková have been working as an independent artist in Prague; she collaborated with various architects starting to use glass as an expressive material.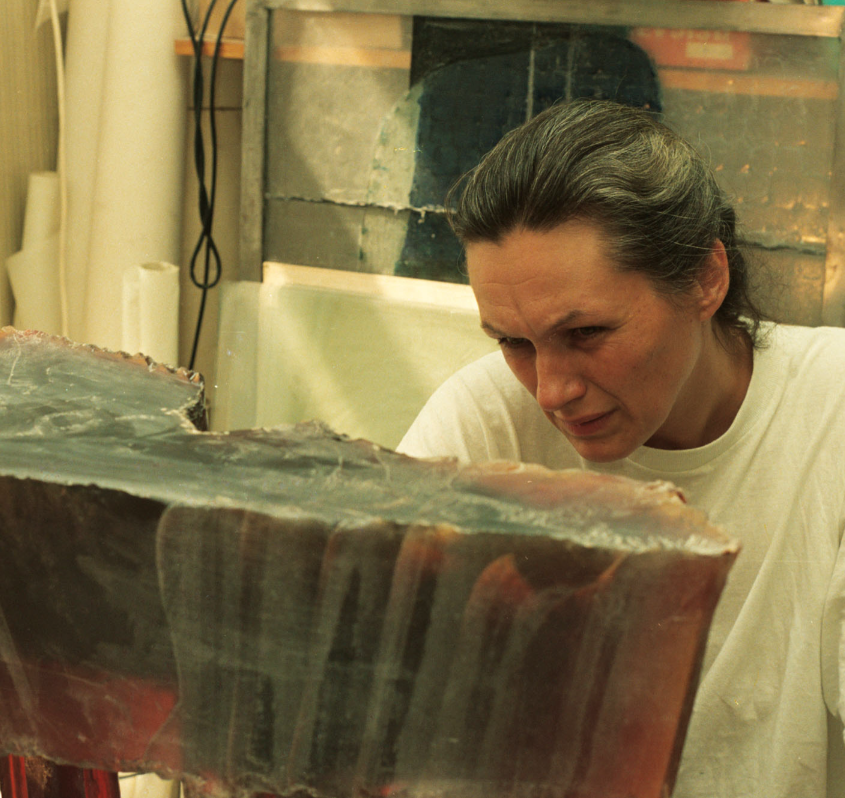 Since the 1980s she has devoted herself to painting with great talent, painting on canvas, but above all on large glass panels. The need to integrate painting with three-dimensional shapes pushed her to work on sculptures obtained by glass fusion and cutting, mainly creating large figures and torsos. It is her constant pursuit to create a unified artistic image, especially in the relationship between glass painting and glass sculpture.
The first three-dimensional works were of great formal and chromatic effect, but she soon abandoned the "illustrative" way of glass working in order to better concentrate on problems related to the division and compression of volumes, problems which appear to her to be essential in relation to the cognitive processes of living.
She's always been working with the help of her life and professional partner, Karel Bartoníček.
In the 1980s, collaborating with Architect Jaroslav Beneš, she created countless architectural works, such as 13 large stained-glass windows for the renovated house in Týnská Street No. 1, which belongs to the historical complex of buildings called Ungelt in Prague. During this time, they carried out most of their work in collaboration with their colleague Jaromír Rybák. Their works were successful despite their political non-involvement and thanks to this they have survived to this day. For example, the front windows to the Chamber of Deputies of the Parliament of the Czech Republic are worth mentioning.
Šabóková's work is represented in many domestic and foreign collections, both public and private. Her works are in the permanent exhibitions of important Czech and foreign museums, for example also in the Musée des arts décoratifs in the Louvre. She has won several awards for her professional life. In 2000, she received the main prize of the worldwide "Vessels" museum award in Koganezaki, Japan.
Teaching in the field of studio glass and glass painting is also an important activity of hers. From the turn of the 80s and 90s, she worked for example at the Pilchuck Glass School in Washington, Sheridan College in Toronto, at the Center del Vidre de Barcelona in Spain, or at the Atelier du Verre de Sars-Poteries in France.